Retina Fellowship Program
In 1960 Wills Eye Hospital and the Board of City Trusts created the Retina Service as the first specialty service at the Wills Eye Hospital. Since 1960, the Retina Service has been instrumental in training over 160 retinal fellows in the diagnosis and management of retinal and vitreous diseases. These past fellows are now in practice in all parts of the United States and Canada, as well as in Puerto Rico, South America, Europe, Asia, and the Middle East.
The Retina Fellowship Program, in conjunction with Wills Eye Hospital, combines surgical duties with clinical and academic responsibilities. Currently, three fellows are selected each year for this two-year combined medical/surgical fellowship. The fellowship begins on the first Monday in July and is completed two years later. Scheduled hospital obligations generally extend from 7am – 5pm daily, although the schedule may run past 6 pm occasionally.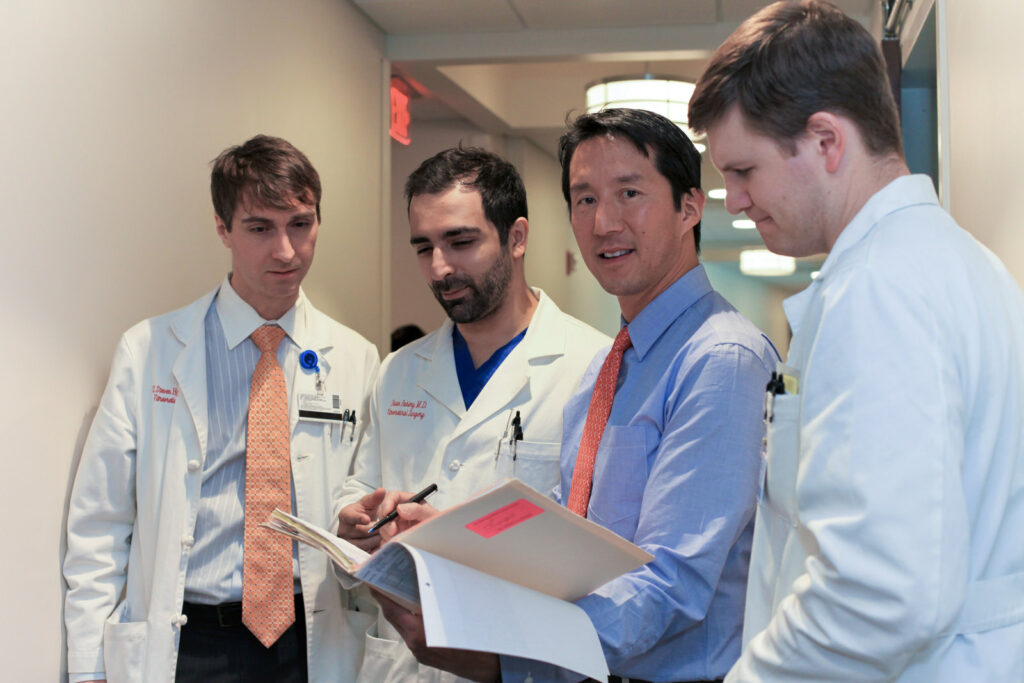 Program Structure
The first year of the fellowship program is primarily focused on mastering medical retina. First-year fellows are responsible for the Retina Service clinic, which sees over 4,500 patients per year. Fellows are actively involved in performing various office-based procedures including focal and panretinal photocoagulation, intravitreal injections, and pneumatic retinopexies. In addition, fellows work closely with the Wills residents and are involved in their clinical education.
First-year fellows also spend time with the attending physicians in their private clinics and have opportunities to be involved in surgical cases throughout the year. Fellows also have the opportunity to work with the Ocular Oncology service under Drs. Jerry and Carol Shields as well as with the pediatric ophthalmologists and retina specialists for retinopathy of prematurity screening and treatment.
The second year of the fellowship program is directed towards learning the intricacies of surgical retina. Second-year fellows are involved in surgical cases on a daily basis. Post-operative patients are seen once a week in the afternoons. With the large number of vitreoretinal surgeons on staff from a variety of backgrounds, fellows are exposed to a high volume of cases with diverse surgical management styles.
Second-year fellows continue to refine their skills in medical retina by returning to the private and Retina Service clinics to see patients when daily surgery is completed. Teamwork is highly valued in the Wills Retina Fellowship.
Didactic Program
Fellows attend and present cases during a weekly Imaging Conference which is precepted by the Retina Service faculty. Surgical conferences are held monthly. A medical retina conference is held on Mondays to discuss clinical management issues. Oncology conferences are held on alternating Mondays with Drs. Jerry and Carol Shields. Grand rounds are led by the Wills residents and held Friday mornings with fellow involvement when retina cases are presented.
Research
First-year fellows have a half-day per week of dedicated time for clinical research projects. Monthly research meetings are held to discuss the status of on-going projects and potential future project ideas. Fellows are sub-investigators on all multi-center clinical trials and actively participate in screening, treatment, and follow-up visits.
Call Schedule
First- and second-year fellows share call and determine the schedule. Weekday call (Monday through Thursday) is split such that each fellow is on-call once every 6 days. Similarly, weekend call (Friday through Sunday) is split such that each fellow is on-call once every 6 weekends. Each fellow also rotates Saturday morning rounding on post-operative patients once every 6 Saturdays.
Vacation
Fellows may take up to 3 weeks of vacation per year with 1 week being taken during either the week of Christmas or New Years. Academic days are allowed for conferences in which the fellow is presenting a paper or poster and for job interviews.
In order to apply for the fellowship, please go to SF Match and complete a central application. Once the central application is submitted, the following data will also be required:
A copy of your medical school transcript.
A copy of FLEX or USMLE all THREE parts.
CV
Digital Photo
These items can either be mailed or emailed to the Fellowship Coordinator
Please address any correspondence to:
Arunan Sivalingam, M.D.
Fellowship Director
c/o Peggy Semen
Wills Eye Hospital
840 Walnut Street, Suite 1020
Philadelphia, PA 19107-5109
Please contact Peggy Semen, Fellowship Coordinator, at (215) 928-3095 or email Peggy at psemen@midatlanticretina.com with any questions.