Diabetic retinopathy is a complication of diabetes mellitus. Diabetes mellitus is a condition in which the blood sugar level is elevated because the body is unable to use and store sugar. This high sugar content damages blood vessels in the body over time and can affect a variety of body organs such as the eyes, heart, and kidneys. Diabetes affects the eyes by causing deterioration of blood vessels in the retina. Breakdown of retinal blood vessels may result in fluid leaking into the center of the retina (macular edema) or abnormal blood vessels that grow (neovascularization) on the surface of the retina or iris, which can bleed and scar. This can lead to loss of central and possibly peripheral vision.

Causes and Associations
The longer someone has diabetes mellitus, the more likely they will develop diabetic retinopathy. After 25 years, nearly all people with diabetes mellitus will show some signs of diabetic retinopathy. The severity of diabetic retinopathy is also related to blood glucose (sugar) control. Keeping blood glucose levels down to as normal as possible reduces the degree and rate of progression of diabetic retinopathy and other diabetic complications in the body. The hemoglobin A1C level reflects how well blood sugar control has been achieved over the past several months. The goal in managing diabetes is to keep the hemoglobin A1C level generally less than 7 although the best target level may be higher or lower depending on patient age and other medical problems.  The exact ideal A1C level is best determined by the physician primarily involved in guiding the management of the blood sugars.
Symptoms
Symptoms of diabetic retinopathy include gradual, progressive blurring of vision; sudden, severe vision loss, floaters, or fluctuating vision. It is important to recognize that people with diabetic retinopathy may not necessarily have visual changes even in more advanced stages. It is important and mandatory that people with diabetes mellitus have their eyes examined at least annually.
Examination
A complete ophthalmic examination is important in the assessment of diabetic retinopathy and this includes vision testing, drops to dilate pupils, and a complete examination of the front and back of the eye.
What the Doctor Sees
There are two major types of diabetic retinopathy: non-proliferative retinopathy and proliferative retinopathy. Non-proliferative diabetic retinopathy (NPDR) is the earlier stage and is characterized by visible damage to small retinal blood vessels. These blood vessels may develop balloon-like swelling called microaneurysms. Microaneurysms and other areas of abnormal retinal blood vessels may leak fluid, causing the retina to swell or bleed. This may lead to vision loss. Leakage in the center of the retina (macula), known as macular edema, is the most common mechanism of vision loss in people with diabetic retinopathy. Non-proliferative diabetic retinopathy is the most common form of diabetic retinopathy, accounting for approximately 80% of all cases.

Some people progress to the more advanced proliferative diabetic retinopathy stage. Proliferative diabetic retinopathy (PDR) is characterized by such severe small retinal vessel damage and reduced blood supply to the retina that the retina reacts by growing abnormal blood vessels (neovascularization). These abnormal blood vessels are fragile and can bleed and pull on the retina as they grow. Bleeding into the vitreous cavity of the eye (vitreous hemorrhage) can result in sudden and sometimes severe loss of vision. This type of hemorrhage is painless and, early on, may be seen as cobweb-like floaters in one's vision. New floaters and any sudden vision change in a person with diabetic retinopathy should be evaluated promptly by an ophthalmologist.
Proliferative diabetic retinopathy can also lead to traction retinal detachments. The retinal neovascularization can grow to be large and then contract, pull, and lift the retina. Retinal detachment can lead to loss of vision if it involves the macula.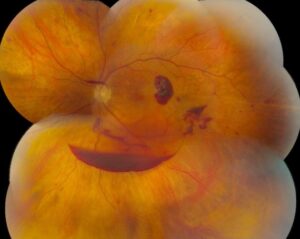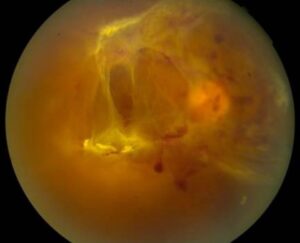 Testing
People with diabetic retinopathy may have several types of tests in evaluating their condition.
Fundus Photography: People may undergo photographs of their retinas to document the stage and findings of diabetic retinopathy. There are no risks associated with this simple test