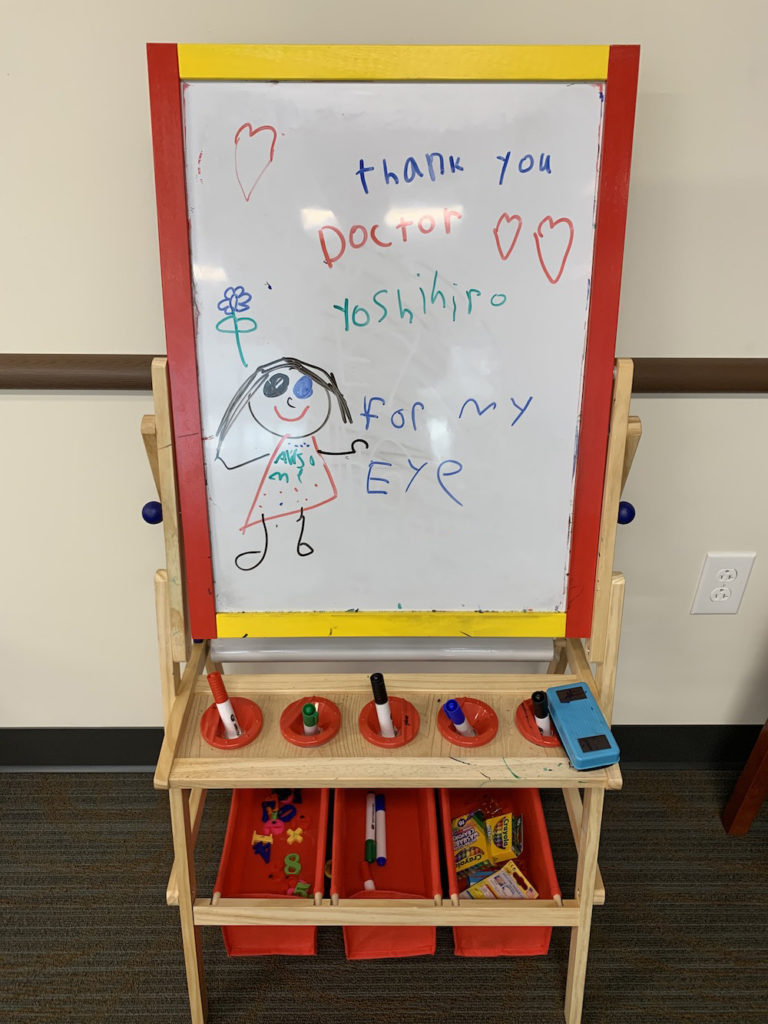 August is Children's Eye Health/Safety Month, according to the American Academy of Ophthalmology. Retina specialist, Dr. Yoshihiro Yonekawa, treats adult and pediatric patients, and is sought out internationally to evaluate and care for children with sight threatening vision issues. Recently, one of Dr. Yonekawa's young patients, was suffering from a complex retinal detachment. After a successful surgery, she no longer had pain in her eye and left this sweet note. Get to know Dr. Yonekawa and learn more about how you can look for the warning signs of vision problems in your child.
Q: What drew you to pediatrics?
A: There's nothing better than being able to tell a mother that her child will be able to see. Working with children with retinal diseases can be challenging in many ways – the exam, the diseases, surgical considerations, are all different from adult patients. Children are supposed to have healthy retinas, but when they don't, it can be scary for families. Thankfully we can usually offer hope, and that's what medicine is about. And at Mid Atlantic Retina and Wills Eye Hospital, we tackle the most challenging cases from throughout the world, and pediatric retina care is one of the many sub-specialities that we are passionate about.
Q: How are you adjusting to living in Philadelphia?
A: The Philadelphia area has been wonderful, and my family and I are really enjoying our time here. The schools are really great, we love the Zoo, Franklin Institute, and most of all, we love the people of Philadelphia.
Q: You were recently awarded the 2020 Senior Honor Award at the ASRS Meeting, how does it feel?
A: I was really excited that so many doctors from Mid Atlantic Retina were awarded with various accolades from ASRS this year, and I'm honored to be a part of what feels like the Retina Dream Team.
Too many times, children are not given regular eye screenings and that could be because the signs of vision problems are hard to point out. Read more about the subtle signs of vision problems in children from the AAO.