Foundation Fighting Blindness VisionWalk 2020
Mid Atlantic Retina participated in the 14th Annual Foundation Fighting Blindness – Philadelphia VisionWalk, and this year the walk was virtual! This was our 7th year as a sponsor, with Dr. Michael Klufas as medical chair. Doctors and staff, along with their friends and family took the time this past weekend to walk and run for a great cause. Our staff and their family and friends logged a total of 158 miles! We look forward to getting together for next year's walk.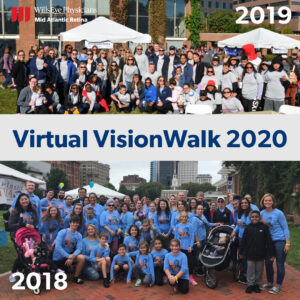 As this year's medical chair, Dr. Klufas said "I am glad to return to this year's 14th Annual Philadelphia VisionWalk for the Foundation Fighting Blindness as one of your Medical Chairs from Mid Atlantic Retina. Mid Atlantic has been very involved with this event since the beginning, serving as a Community Partner sponsor." Read his full comment here.